Matoro



Element

Ice

Faction

Matoran/Toa

Allies

Toa Mata/Toa Nuva
Turaga
Matoran
Toa Inika/Toa Mahri

Enemies

Makuta
Piraka
Barraki

Status

Deceased

Location

Unknown
Matoro is a matoran who turned into a Toa Inika along with Jaller, Hahli, Hewkii, Nuparu and Kongu. He sacrificed himself to save the world! He wore the
Ignika
and fell down an underwater hole in Mahri Nui to Karda Nui.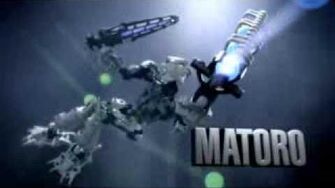 Matoro is a Blue and White Tohunga, A.K.A. Mctoran. He wears a sand blue Powerless Kanohi Akaku. He had a throwing disk that could be stored on the back of his head or placed in his hand.
Matoro is a blue and white matoran. He wears a sand blue Powerless Kanohi Akaku, similar to his Tohunga counterpart. He weilds a Kohlii Stick with a Kohlli Ball, which (ironically) looks like a hockey puck.
Toa Matoro (8732)
Pieces: 47
Matoro is a white and grey Toa Inika. He wore a white Organic Great Kanohi Iden His unique head made his and the other Toa Inika's masks unattatchable to other heads. He weilds a light-up Energized Ice Sword and a handheld Zamor Sphere Launcher.
Matoro is a white and blue Toa Mahri. He wears a silver Great Kanohi Tryna. He weilds Twin Cutters and a Cordak Blaster. This was the year and place where he sacrificed his life to save Mata Nui (the being, not the island).
Ad blocker interference detected!
Wikia is a free-to-use site that makes money from advertising. We have a modified experience for viewers using ad blockers

Wikia is not accessible if you've made further modifications. Remove the custom ad blocker rule(s) and the page will load as expected.